Divi review – Divi 4 Theme Builder update
I've been in a steady relationship for a while now. She's beautiful, elegant, she makes my life better and she really completes me… I met her at work, and though it absolutely wasn't love at first site, I grew to love her over time. After I few dates it clicked so well I knew it for sure; she and I belong together!
Wow Bob, that sounds great! So what's her name?
Her name is Divi 😀 Yup, my great love is a WordPress theme. Not just any old theme though, Divi is being used on almost a million websites worldwide and that makes her one of the most popular WordPress themes even. I know, our relationship isn't exactly exclusive, but I can date other themes as well so that's a good thing!
So what makes Divi so great?
Well, the theme Divi itself isn't that great at all, it's the Divi Builder that comes with it that made me and hundreds of thousands other customers fall in love with it. That builder is also available as a stand alone plugin, so you can use it's super powers with almost any theme you like.
The Divi Builder is a really powerful drag & drop page builder that lets you adjust everything live on the front end of your site so you immediately see the effect of the changes you make.
So when you adjust things like colors, borders, background images, margin / padding,  animations etcetera, you see the page change in real time and it looks exactly the same as your visitors will see it. Editing text is just a matter of click and type.
Buy or upgrade Divi now and get 20% off during their Anniversary Sale!
Have you been doubting to buy Divi or upgrade your subscription to the lifetime licence? Then this is your chance, because now Elegant Themes offers the highest discount of this year; no less than 20%! In addition, you can benefit from discounts of up to 50% on Divi addons in the marketplace. Click on the button below and claim your discount before it's gone!
When I say the Divi Builder lets you adjust everything, I mean everything; since the launch of Divi 4, the builder can also be used to build your own header, footer and all kind of templates like your posts archive, WooCommerce product page, 404 page etcetera. That takes the Divi Builder from a page builder to a complete theme builder!
The most important part for any template builder is dynamic content.
Dynamic content means the data is taken from the database. So when you're building your blog template, you can add an image module and automatically insert the featured image from the post there. Next, you can add a text module and insert the post title there, and more text modules for the author, publish date, categories etc.
And when you build a WooCommerce product page, you can dynamically add the price, product info, reviews, related products etcetera anywhere you want.
You can have as many templates as you want, so e.g. you can have a separate template for the homepage which uses a different header from the global header,
a different look for your blog posts or even a complete unique layout for a certain page, for example a landing page of your contact page.
Building a template works exactly the same as building a single page of post, so you can include any of the Divi modules (also in the header and footer). That gives you a lot of design freedom!
Divi comes with almost 40 modules, which are content elements. The module I'm typing this text in is a text module, the image next to this text is an image module and so on.
There's a video module, an image gallery module, a Google Maps module, a contact form module, an e-mail opt-in module to get more subscribers on your mailinglist,
a countdown timer module and a number counter, an image-, post- and video slider, an accordeon module, a testimonials module, pricing tables etcetera. 
The modules are searchable so you can find the one you want easily, and even though they look quite nice out of the box, there are a lot of styling options available.
Actually, Divi probably offers the most styling options of all the page builders I tried.
A few of the things you can adjust in the styling options are:
The colors (you can set default colors in the theme settings and/or use global colors)
Backgrounds (solid color, but also gradient, image or video for any element)
Fonts
Box and text shadow
Alignment
Min and max width and height
Borders (including shape dividers)
Color filters
Transform options (rotate, skew, scale etcetera)
Animations (both entry as on scroll)
And so on
Moreover, those styling options are much more visually displayed than with other builders, which makes Divi very user-friendly. For example, if you want to set a shadow in Divi, you can choose from a number of presets, which you can then fine-tune. Other builders like Elementor don't offer presets, you have to set the shadow values yourself (see the screenshot above). You can also see the difference when adding shape dividers; in Elementor and other builders, you only see the name of the shape (mountains, waves, clouds). In Divi, you just see an image of the shape dividers so that you can immediately see what it looks like.
You can style just about anything: any module, column, row, section… and you can even have different styles for different devices.
Just look at the first screenshot on the page to see how that works. With a lot of elements, you see a phone icon when you hover over it. When you click on that icon, you get 3 tabs: desktop, tablet and phone.
So for example, when you click that icon with the font-size setting, you can set a H2 header to be 26px on desktop, 22px on tablet and 18px on smartphones. But you can also adjust things like the alignment, the (background) color, borders, animation settings, transform options… and of course, you can choose to completely hide any element on mobile, tablet or desktop. 
But what makes Divi really unique is what they call responsive content: you can't only change the font-size and color of a text on mobile, you can even change the actual text (or image, video etcetera) itself! So if you heading doesn't fit on mobile, you can change it to a shorter one just for mobile, while your desktop version stays as it was. Wow!
Divi also has a built-in simulator so you can quickly see how your page looks on a tablet or smartphone.
Global presets, the Divi Library and other time savers
So you've spend a lot of time to get that testimonial exactly the way you want it, and you want the same design on every other testimonial. Don't worry, Divi has a bunch of handy features that make sure you don't have to manually style every module again 🙂
First of all, you can copy a modules styling options and just paste all styling options on to the next module. You can also copy and paste just one styling option, like the h2 color for example.
Or you can extend the styling option(s) to all other modules of the same kind, so you can paste the styling options of a testimonial to all other testimonials on the same page (of just in the current row or section). 
That's a huge time saver, but those options only work on the current page. What if you have testimonials on every page, and you want all of them to have the same styling? 
That's where global presets come in. With global presets, you can save the current styling and extend it to all testimonials on your entire site!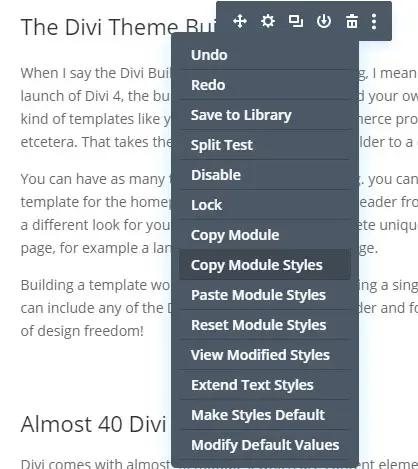 You can have multiple presets for one module, so you can have a testimonial with a blue background, one with a yellow background and one with a red background, and set one of those as the default style for all new testimonials. Of course, you can also select a different saved style per module (or row, or section). 
You can also save your design to the Divi Library, which is like the WordPress media gallery, but for Divi elements instead of images. You can store every element – from a button to a text block and from a row to a complete page layout, incl. all of its content and styling, in the Divi library.
From there, you can import the part you want on any other page on your website, and even export it to use it in another Divi website.
You can also save any element as a global element, which is great for things like buttons. If you change the color of a global button, the color of that button will change everywhere that specific button is used.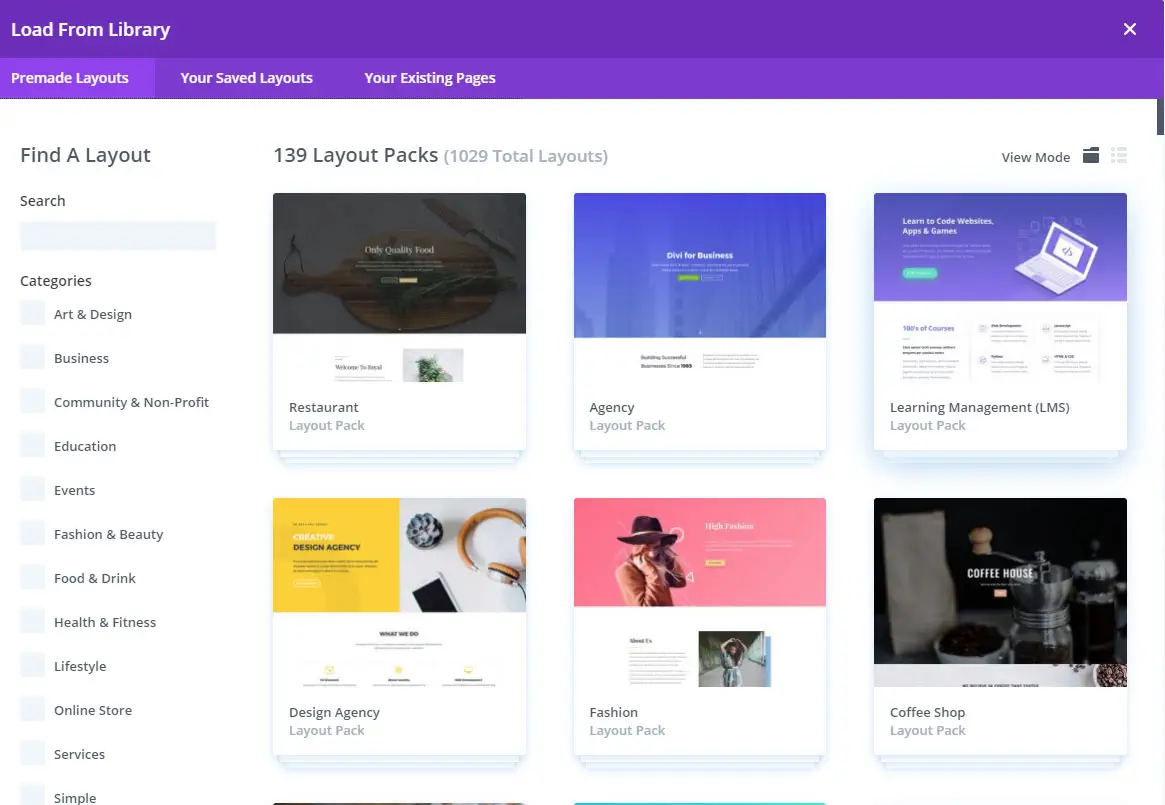 Next to your own designs, you'll also find a lot of layout packs in the library.
Layout packs are professionally designed templates that come with Divi by default.
A layout pack consists of several templates in the same design style. So for example, there's a layout pack for a restaurant that contains a template for a home page,
a contact page template, a menu page etc.
There's a brand new layout pack added every single week,  designs added every single week, so when you buy Divi, you don't buy just 1 theme, you buy tens (and eventually hunderds) of themes in 1.
Still not convinced? Here are some more reasons why I love Divi 🙂
Divi has a very active development team, so new features are added on a regular base.
If you're into conversion optimization – which every commercial website owner should be – Divi leads is a really valuable and unique feature. E.g. with Divi leads, I can test the button below in multiple variants to see which variant performs best. I could make a button with a yellow background and a button with a green background, and Divi will show half my visitors the yellow button and the other half the green button. Divi leads will measure how many percent of my visitors click on the yellow button, and how many percent click on the green button, so I can choose the variant that gets the most clicks.
Divi also has a built-in role editor, which allows you to set what users with a certain user role can and can't do. Most other builder have a role editor too, but those are limited to 2 or 3 presets: a user role can use everything in the builder, or they can't access the builder at all. Some builders offer a third option where users can only edit text and images. In Divi, you can control much more. For example, if you want your client to be able to adjust background colors, but not the column layout, the Divi role editor lets you set it just like that. 
Next to the Divi theme and the stand alone Divi builder plugin, your Elegant Themes membership also gives you access to a few cool plugins from which the Monarch social sharing plugin and the Bloom e-mail opt-in plugin are certainly worth the effort.
Divi is supported very well. There's an extensive help function with video tutorials, on the website but also within the builder itself,  en they publish a lot of tutorials about all sorts of subjects on their blog. Also, the support team isn't afraid to provide a custom code snippet to achieve something that can't be done with Divi settings alone.
Last but not least: the Divi license system is really favorable for website builders, designers, agencies and others who build websites on a regular base. For a one time investment of 249 dollar, you can use Divi and everything else from Elegant themes on an unlimited amount of websites, and you also get lifetime updates and support. Most premium themes and plugins licenses are only valid for one website, and / or you have to pay every year to keep getting updates and support.
That almost sounds to good to be true… Are there any downsides on Divi?
Of course, Divi isn't perfect either. Some of the main cons are:
The learning curve. The Divi Builder is a very extensive tool and it will cost you a fair amount of time to discover all its possibilities. Even though it's quite user friendly, it will take some time to get used to it. As I said at the beginning of this review, it wasn't love at first sight for me either 😉
The price. As I said before, it's really favorable for people that build websites regularly, but if you only want to build one or two websites, Divi is quite expensive compared to the competition. You can also choose to get a yearly Divi subscription at $ 89 for one year of updates and support, but you can't keep a website running smooth without updates so you'll need to keep your subscription active. In just 3 years time, the lifetime option is a more attractive option already.
The Divi page builder works with shortcodes (as most other page builders do, except for Elementor and Beaver Builder). You won't even notice that as long as you use Divi, but if you ever want to switch to another page builder your content will be full of shortcodes which will make it unreadable. Luckily, there's a great plugin available that can clean up Divi's shortcodes, so this isn't that big of an issue anymore.
Divi lacks a few features some competitors do have, like a pop-up module, a flipbox module and an animated header module. If you need those, check out Divi Supreme.
Divi has a built-in slider, but that's really basic and can't be compared to the extensive animated sliders that come with some other themes.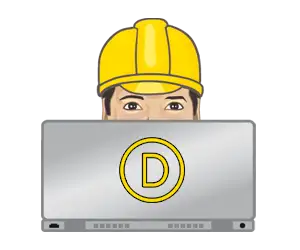 Let Bob The Web Builder build your Divi website!
Bob The Web Builder, the author of this Divi review, is a professional Divi website builder who knows this popular theme inside out. From just € 1695 excl. VAT, Bob will build you a beautiful Divi website, which includes a lifetime licence for Divi (valued at $ 249).
Which alternatives for Divi are there?
Elementor isn't  a complete theme, but a page builder plugin you can use with almost any WordPress theme (same as with the stand alone Divi builder plugin). Elementor is the only page builder plugin of which I – as a Divi user – am sometimes a little jealous…
That's because Elementor also has a very active development team, and I regularly see one of Elementors Facebook posts in which they announce a cool new feature that's not in Divi yet, that makes me think "I want that too!".
E.g., Elementor has had a header and footer builder and WooCommerce builder for over a year already before those got released in Divi.
Elementors page builder works fully front end so you see the effect of your changes immediately, just like in the Divi frontend builder. Just like in Divi, you can adjust padding and margin very easily with drag & drop, but in Elementor you can even adjust your column with as well.
Also, you can add any widget (also widgets made by third party plugins) anywhere on your site. You can do that with Divi too, but the Elementor way works way better.  Divi users are complaining more and more about things that Elementor has and Divi doesn't, and Elegant Themes promises those features will be in Divi too shortly. That's probably true, but the fact remains that Elementor is usually the first to implement cool and usefull features and Divi follows a few months (or years) later…
So in terms of features and user friendliness, Elementor is really close to Divi. Moreover, it has one huge advantage: Elementor is completely free!
Well.. the basic version that is. There's also a pro version of Elementor, which offers even more features and modules. The basic free version doesn't have features like contact forms, pricing tables, sliders and portfolio modules, things that Divi does have. The header and footer builder and WooCommerce builder are also only available in pro.
The basic free version of Elementor is really extensive too though, and certainly worth the effort of trying. If you're only building 1 website, the pro version of Elementor is priced a bit more attractive than Divi at $ 49,00 a year. However, if you build websites professionally, the pricing for Elementor Pro run up quickly; for $ 199 per year, you can use Elementor Pro on 25 websites, a 100 website licence costs $ 499 per year and for $ 999 a year you can use Elementor Pro on up to 1000 websites.
Even though the costs per website aren't that high, the Divi licence is way more attractive for professional web builders of course.
Brizy is, just like Elementor, a separate page builder plugin that works on the front of your website, and just like Elementor, Brizy also has a very extensive free version. Brizy is also actively being developed, but where Divi and Elementor are already really mature page builders, Brizy is still in its childhood; Brizy was only launched in May 2018. However, Brizy is already installed on over 60,000 WordPress sites, so that's quite promising …
Brizy distinguises itself by a user-friendly interface with a toolbar that appears above the element you want to edit, so you can edit most settings right there. With Divi and Elementor you adjust all settings in a popup or sidebar. That may seem less user-friendly, but I find it a bit more organized. Although I must say that I was also quickly used to the Brizy way.
At the time of writing, Brizy contains about 20 "design elements" (which Divi calls modules). That's a bit on the lean side, since Divi has 37 and Elementor Pro even more. Of course, Brizy does have the standard things like rows, columns, text blocks, images, buttons and even a contact form, but some advanced modules such as testimonials and price tables are still missing.
However, Brizy comes with quite a few pre-designed blocks (sections in Divi), including a variety of pricing table templates and testimonial templates. You can easily insert these in your design and adjust them to your own wishes, so you won't really miss those modules.
Of course the developers of Brizy need to earn some money too, so there is also a pro version of Brizy. Brizy Pro includes a really nice theme builder (headers, footers, templates),
a WooCommerce builder, a popup builder, dynamic content, image filters and premium designs, and A / B testing is on the roadmap as well.
Divi vs Avada
If you're looking for a "multi purpose" theme, you probably came across Avada already.
Avada also has its own page builder, the Fusion Builder. This basically works the same as the Divi builder (also based on shortcodes), recently even with a front-end builder just like Divi's Visual Builder. And just like Divi, Avada also lets you build templates for your pages and posts, header, footer, WooCommerce etcetera.
One of the best parts of Avada is the extensive theme options, where you can set literally hundreds of options. Fortunately, those theme options have a powerful search function that allows you to find the option you need very quickly. Since Avada 6.0, those theme options have also been moved to the front-end so you can immediately see the effect of your changes.
As with Divi, you can also store any element in a library with Avada, so you can reuse it elsewhere on the site or on another Avada site. And Avada also comes standard with about 80 "demo sites", comparable to Divi's layout packs.
Avada's design options are (much) less extensive than those of Divi (or Elementor); For example, in Avada, you won't find color filters, shape dividers, transform options and so on,
and although you can set hover options and animations, they are quite limited.
Avada's documentation is decent, but less extensive than Divi's. The support is fine, but limited to 6 months after purchase.
Finally, Avada is a lot cheaper than Divi; a license costs only $ 60.00 including lifetime updates. However, you do need a new license for every website.
If you only want to build 1 website, Avada is a very attractive option, but if you want to build multiple websites, Divi becomes cheaper after a few websites.
Divi vs WP Bakery Page Builder / Visual Composer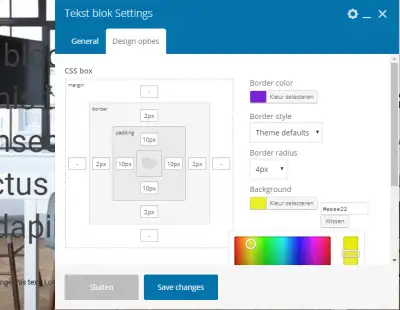 If you bought a few themes on ThemeForest before, you probably know the WP Bakery Page Builder (maybe under its old name Visual Composer). Even though some popular themes like Avada and Enfold developed their own page builder, most ThemeForest themes use this one.
Just like Divi, the WP Bakery page builder also has both a backend and a frontend editor, and this page builder also offers some advanced design options like animations, borders, (parallax) backgrounds and even color filters. Some other features like shadow effects and shape dividers aren't available though, and the features that are available are a lot less customizable than Divis.
The biggest problem though is that the way WP Bakery works is just a lot less pleasant than Divi and Elementor. As said before, when you adjust something in the Divi or Elementor front-end builder, you see the effect of your change immediately, live as you change it. So if you want to change your background color, you see the background change on your website as you hover over the color picker.
The WP Bakery page builder opens a popup in which you have to make your adjustment. To see the effect of your change, you have to save and close the popup before the changes take effect. If you don't like the color, you have to open the popup again, choose another color, save and close the popup…
That's not a front end editor, that's just a backend editor that opens in the front end of your site. You can't compare this at all with the live front end editors of Divi and Elementor.
The WP Bakery page builder does have quite a lot of modules and there are a lot of (paid as well as free) addons available. With a price of $ 45,00 for 1 site, but with lifetime updates, the WP Bakery page builder isn't really expensive… but not really good either, in my opinion.
Divi vs Beaver builder
Beaver builder is – just like Elementor – a user friendly stand alone page builder plugin that you can use with virtually any WordPress theme. Just like Elementor, Beaver Builder also works on the front end of your website, and there's also a free version available. But where the free basic version of Elementor can measure itself with premium page builders like Divi and Avada, the free version of Beaver Builder is very limited. The pro version of Beaver Builder is quite expensive and they offer very little styling options: no fancy backgrounds, shadow effects, borders, color filters, shape dividers etc, and just a few basic animations.
For me personally, Beaver Builder is way too basic. I want to have a lot of features and styling options in a page builder, but there are also a lot of people that just want a basic page builder that works really well and fast, without all those confusing options. If you're one of those people, Beaver Builder might just be right for you.
But Bob, if I buy a page builder, I won't need you anymore?
That's right, you don't need me anymore. Certainly with Divi or Elementor Pro, you can build just about anything you want without any knowledge of code.
However, as said before, it will cost you a fair amount of time to discover all the possibilities and getting used to the way your page builder works. And when you finally know everything  you need to know, it will cost you a lot more time to build the website exactly the way you want it. You also have to install and set up WordPress, and find, install and set up the plugins you might need.
Moreover, a page builder can't teach you how to make a user friendly website, how to make sure it ranks well in Google and how you get your visitors to buy something from you or request a quote. Those are things I, as an experienced web developer, do know.
Did you just start out and do you have more time than money? Then I absolutely say "go for it!". Buy yourself a good page builder, watch hours of video, read everything you need to know about SEO, usability, CTA buttons, conversion optimization etc., and after a few months you'll probably have a decent website.
Don't you have that much time, of would you rather use that time to find new clients or do other important things? Then you're probably better off hiring a web builder. If you choose a web builder who uses a good page builder, you can always still play with adjusting colors and settings yourself when you want to change something on your site 😉
This article contains affiliate links. That means I get a compensation when you buy one of the page builders mentioned in this article. The price you pay is still the same so it won't cost you anything, but it will help me to help you with these kind of free articles.
So if you're going to buy one of the page builders above, I would really appreciate it if you use this link 🙂 And there's a little surprise in it for you too 🙂
Are you going to use Elementor or another free solution, but still want to help me out? Then I would really appreciate it if you would make a small, one time donation via the button on the right 🙂
Related Posts