If you want to build your own website, you have a huge choice of free or paid software to do so. But which one is the most user-friendly, which offers the most features and what does it all cost? In this article, website expert Bob the web builder discusses the 4 most popular options:
When creating a Wix website you have 2 choices; you can have Wix automatically build a website for you by answering a number of questions, or you can get started with the Wix editor yourself.
Automatically create your website with Wix ADI
In the first case, Wix asks, among other things, for what sort of company you want to build a website, which functionality that website should have (for example, a webshop, live chat, booking module, Instagram feed etc. You can even automatically fill the website (partially) by submitting your existing website and / or Google Places profile. Next, you upload your logo and add your contact details and social media accounts.
Then you choose a specific theme, and if you want Wix will create a color palette based on your logo. You will be reassured at every step; you can adjust it all later. In the last step you will see 3 different designs based on your choices. Once you have chosen a design, your website will be automatically put together by Wix, and after a few minutes you can start editing your site.
You can edit your website with a user-friendly editor. When you click on an element, its settings will open in the left sidebar. For example, you can choose a different design for that particular section, adjust texts and images and so on.
At the top left of the editor you will find an "add" button, with which you can add a new page, but also add new parts to the current page.
You can choose from hundreds of professionally designed sections; blocks of content that belong together . For example, the navigation menu is a section, the "about us" part is a section, the references is a section, the contact form is a section, the newsletter subscription form is a section and so on.
The editing options are relatively limited ; for example, you cannot adjust all backgrounds, add elements to existing sections (you can add elements above or below a section, but you can't add a "request quote" button to your services section), adjust the white space and so on.
On the other hand, the standard sections consist of a number of elements; for example, a hero section can contain a header, a background image and 2 buttons, and a reviews section can contain an image, title and button. You can set for each element whether you want the element in question to be visible or not. You can also adjust the colors of texts and buttons, but only with colors that are available in the chosen color palette. That's not neccessarly a bad thing, since it keeps the design nice and consistent, and you can choose from multiple color palets (based on 1 main color).
Create a website yourself with the Wix editor
Would you rather determine everything yourself? Then the Wix editor might be the right choice for you. Again, you start with a standard template, and with more than 1,000 professionally designed templates to choose from there's definitely one you like. Those templates are neatly divided into categories such as "restaurant", "photography", "music", "health and wellness" and so on. Most categories are further divided into subcategories; For example, the category "webshop" is subdivided into "Fashion and clothing", "Jewelry", "Home and decor" etc. This way, you will quickly find a template that fits well with your activities.
Each template consists of several pages, so you can install a complete website with 1 click, which you can then edit. Of course, there's an editor available for that,  but it is a bit less user-friendly than the Wix ADI editor.
On the other hand, this Wix Editor offers a lot more features; with this editor, you can adjust all backgrounds, adjust colors, fonts and alignment of each text individually and add elements wherever you want.
Each element is available in quite a few variations: for example, there are more than 100 different buttons (of which you can adjust things like the font and color completely to your liking), several dozen photo gallery and contact form styles, 5 different social media share buttons and so on.
In addition, you can add all kinds of functionality to your website, such as a webshop, booking module or blog.
In addition to the functionalities that are standard available from Wix itself, you can also install hundreds of free and paid apps from the Wix app market.
Wix has a free version, but that does not allow you to use your own domain name and your site displays Wix advertising. That's not very professional of course.
The pricing seems to differ per country, click to see your pricing. Wix is a bit more expensive than others, but that doesn't make much difference.
When you've created an account with SquareSpace, you start with a short introduction so you know where to find the most important functions.
Next, an assistant tells you what the most important next steps are, such as adding your logo and extra pages, adjusting the design and launching your site.
Personally, Jimdo's interactive assistant appeals to me more, since that takes you directly to the section in question, while Squarespace only provides some information about it and points to a help article.
All Squarespace's settings can be found in the left sidebar. There you can, for example, add pages, set typography (you can set separate fonts for titles, buttons, text, etcetera, and choose from hundreds of fonts from Google Fonts), colors (you can choose from a number of predefined color palettes, but also create your own color palette), animations and so on. You can also add your contact details here (e-mail address, phone number, address, opening hours), as well as your social media profiles.
You can also add a webshop here, and then find your orders, customers, products, payment methods and so on here. Under the heading "marketing", you will find a built-in newsletter system (but you can also use MailChimp or Zapier), a popup builder and tools to integrate your marketing with Facebook and Instagram. You can also view various statistics.
As with Wix, a Squarespace page is also made up of multiple sections. Squarespace offers a choice of over 200 different section templates, neatly divided into categories such as "Headlines", "Gallery", "Quote", "Contact" and "Newsletter". The designs are very basic, with little use of colors or images. However, you can easily set a background yourself, where you can choose from a background color, image or video. You can use a custom color palette per section.
Moreover, at Squarespace you can add elements to a section template yourself. So, for example, if you want to add a "contact us" button, you can easily do that. That also goes for other elements like an image, gallery, contact form, newsletter sign-up field and so on.
I did notice a slight delay with Squarespace – if you adjust something, it takes 1 to 2 seconds for this adjustment to become visible on the website. So that doesn't really feel smooth. 
Squarespace doesn't have a free version, but you can try it for free for 14 days. Then you have to choose 1 of the paid packages, of which the cheapest
costs € 11.00 / $12 per month if you pay per year. If you also want a webshop, you pay at least € 17.00 / $18 per month.
Just like WIx, Jimdo is also available in 2 versions: Jimdo Dolphin, a simple version for people who want to put their own website online within a few hours without any knowledge of programming and website building, and Jimdo Creator, a version for experienced web builders where you can add elements and code yourself.
The simple version: Jimdo Dolphin
If you choose the simple version, you're welcomed with a user-friendly set-up wizard consisting of several steps.
For example, you'll be asked what the purpose of your website is (hobby, starting company, existing company), what kind of website you want to make (a company website, a webshop, a portfolio website), in which industry you're active, which style you like most (minimalist, dark, modern, light) and you can choose from a few color schemes.
You can also choose 3 pages that – in addition to the homepage – will be pre-installed by the wizard. You can add more pages yourself later, but how many pages you can add depends on the package you choose.
At the end of this wizard you can choose from a few standard templates. When you have chosen a template, an assistant will appear that will help you with, for example, choosing fonts, adjusting the layout of the blocks, adding extra blocks, adjusting the navigation menu and even designing a simple logo.
When you're done with the wizard and the assistant, you have actually already created a complete website of which you only have to adjust the texts and photos. Editing texts is easy and a matter of clicking and typing. You can also adjust other parts by (double) clicking on them.
A Jimdo website is made up of blocks. This works the same as the Wix and Squarespace sections. Jimdo offers a choice of approximately 100 blocks, divided into categories such as "text", "image", "slideshow", "about" and "contact". Such a block consists of various elements; For example, a cover block can contain a header, a background image and 2 buttons, and a contact block can contain a map and contact form in addition to the title.
You can enable or disable those individual elements, but it's not possible to add elements yourself. For example, if I want to add a map to a cover block, that's not possible, and even if I want to add a "contact us" button under the my services overview, that's not possible; you can really only use the elements that are present in the standard block templates.
Furthermore, there are also no styling options per element. For example, you cannot change the color of an individual button or header, or the hover style of the menu item.
You can choose from multiple global styles / color schemes, but these apply to the entire website. On the one hand, this does ensure a consistent design, but it limits your creativity considerably.
The extended version: Jimdo Creator
Do you want to let your creativity run free, and do you have "a good eye for design"? Then Jimdo Creator is probably a better choice.
You start by choosing 1 of the 40 standard design packages. Within such a design package, you will find about 20 page layouts; 4 different homepage layouts, 3 service layouts, 6 photo gallery layouts and so on.
At Jimdo Creator, you will not find any standard blocks, just complete page layouts.
But instead you can add any element you want here. You can choose from about 40 elements; in addition to the standard things like (heading) texts, images, photo gallery, columns and video, you will also find things like:
A "guestbook" that visitors can use to post a comment
Social media share and follow buttons
Facebook and Instagram feeds
MailChimp registration form
Calendar function
And about 60 additional elements via powr.io (an external script library).
With Jimdo Creator, you still can't adjust the styling per individual element, but you can adjust a lot more than with Jimdo Dolphin. For example, you can create 3 standard styles for buttons, where you can set the colors, fonts and borders yourself. Even though you can't set a separate color for an individual button, you can choose which of the 3 styles you want to use for that button.
You can also add code to the <head> section of the site, or add your own HTML code. Unfortunately I couldn't find an option to add custom CSS in the Jimdo editor.
You can start for free at Jimdo with the Play package, but if you want your own domain name and want to remove the Jimdo ads, you need at least the Start package (which at Jimdo Creator is called the Pro package). The price for this is € or $ 9.00 per month, and if you also want to start a webshop the prices at € or $ 15.00 p / month.
Personally, I always work with WordPress. This is
by far the most popular software to build a website with
; more than 30% of all websites worldwide now run on WordPress (!).
WordPress also comes in 2 flavors: via WordPress.com you don't have to install anything yourself, and via WordPress.org you can download the software for free to install it on your own hosting.
Although WordPress.com sounds more attractive at first, I strongly recommend that you go for the second option. WordPress is so popular because there are thousands of themes (templates) and plugins (similar to apps on your phone) available, but at WordPress.com you can only use them from the business subscription of € 25.00 per month.
If you are using the self-hosted version of WordPress you need a hosting package which you can buy from any hosting company, for example Hostgator or SiteGround which offer a hosting package for just a few Euros or Dollars per month.
Installing WordPress manually on your own hosting is quite difficult, but luckily Hostgator and most other hosting companies automatically install WordPress for you so you don't have to worry about it.
Just like the other website builders, WordPress also works with themes / templates. You can choose from nearly 8,000 free themes , and many more paid (premium) themes .
Most premium themes like Divi (which is used to create this website and most other websites from my portfolio) and Avada come with tens to hundreds of pre-built templates that you can easily install and customize.
These themes also have an advanced editor with the same user-friendliness as Wix and Jimdo, but without the limitations; these editors let you adjust anything you want, as well as apply advanced animations and other effects.
The free themes usually use the default WordPress editor, which offers a lot less possibilities but is therefore nice and clear and user-friendly.
Do you want to (start with) a free theme, but still have advanced editing options? This is possible with plugins. Plugins are similar to apps on your phone; pieces of software that add more functionality to your website . This can be an advanced free editor such as Elementor or Brizy, but also a complete webshop, reservation system, contact form, Google Maps, newsletter system, social media integration and so on.
As with themes, there are also thousands of free and paid plugins available. Although there's a free plugin for almost everything you come up with, you often get more functionalities and better support with the paid plugins.
WordPress itself is 100% free, and there are thousands of free themes and plugins available as well . The only costs you have to incur are a few euros per month for a hosting package and a domain name.
Wix, Squarespace, Jimdo or WordPress?
As I wrote, I personally always use WordPress to build my websites, usually in combination with the paid Divi theme. Starting with WordPress is a bit more complicated than with Wix ADI and Jimdo Dolphin, but if you take a little time to learn it, WordPress offers a lot more possibilities .
I find the WordPress editors from Divi, Elementor or Brizy a lot more user-friendly than the advanced editors from Wix and Jimdo Creator. Squarespace is the least user-friendly and I would not recommend it.
Do you find WordPress too complicated and do you just want to have a nice website online within a few hours? Then I recommend Wix ADI . Jimdo Dolphin is also very user-friendly,
but very limited while Wix ADI also keeps it very simple but offers just a bit more possibilities.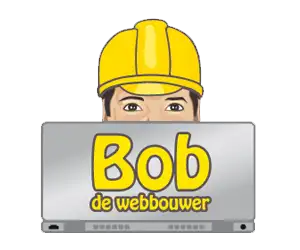 Need help with your website?
This article is written by Bob the webbuilder, an allround website expert who blogs regularly about all kinds of subject to help you build your website. Do you need help?
Hire Bob to build your website or improve your existing website. 
This article contains affiliate links. That means I get a compensation when you buy one of the paid website builders mentioned in this article. The price you pay is still the same so it won't cost you anything, but it will help me to help you with these kind of free articles.
Are you going to a free solution, but still want to help me out? Then I would really appreciate it if you would make a small, one time donation via the button on the right 🙂
Related Posts