My regular readers might know its hard for me to pass on a good lifetime deal. My lifetime membership from Elegant Themes (the company behind Divi) proved to be one of my best decisions ever, so when I came across a similar deal from Themify, I didn't have to think long before I bought that too. So, is it worth the money? Let's see!
The first thing that appealed to me was the Themify Builder, which is their very own page builder.
I have tried a lot of page builders; Divi, Elementor, Brizy, Oxygen, Thrive Architect, WP Page Builder, Qubely, LiveCanvas, Avada… really, a lot 😉
Divi was my first page builder love, and it's still my favorite. Can Themify Builder Pro change that?
At first glance, the answer is no. It just doesn't feel as intuitive, but it does have some nice features that make it worth exploring a bit deeper.
What I DON'T like about Themify Builder
Normally when I write a review, I always start on a positive note by highlighting the strong points. But with Themify Builder, the initial experience just wasn't positive, so I'll talk about that first. Don't worry, I'll get to the strong points later on 😉
My bad experience starts immediately when I add a new page. Themify Builder first opens in the backend, in a wireframe view. I've seen that before in Divi and Avada, and it gives you a good overview of your pages structure. But I'm used to building on the front-end, so that's where I want to go. But I can't… Seems I first have to save the page, then view it and then I can edit it on the front-end. Not a biggy, just not intuitive.
When I'm on the front-end, I can only add a new row on the bottom of my page. So if I want to add a row just below the header, I have to scroll all the way down, add the row and drag it to where I want it.
When I add that row, I have to choose a column layout, but I can only choose between equal columns. I can have up to 6 columns, but I can't choose a 1/3 – 2/3 layout or a
1/4 – 3/4 etcetera. Strangely, after I added my row, I CAN choose a 1/3 – 2/3 layout and a 1/4 – 3/4 layout. Why not give me that choice right way? Now, I have to click one more time… however, you can drag the column width to any value you want so you can make any combination you desire.
So now I've chosen a column layout and I want to add some text. When I add a module, a popup opens where I can add the content and styling, I can drag that popup wherever I want, or dock it as a sidebar on the left or right. That's nice, but when I want to edit text, I can only do that in the same popup window. In other builders, I can just click on a text and start typing, without a popup. Again, it just doesn't feel intuitive.
The styling options are in a seperate tab in the same popup, and they are divided in accordion style headings, which is quite clear. That also goes for the breadcrumbs above the tabs, which is a nice addition to the clarity of the builder. However, the entire user interface feels quite old-fashioned and basic to me. That doesn't necessarily have to be a bad thing though; you might like a clean and simple interface like this. 
What I DO like about Themify Builder
So at first glance, I don't really like Themify Builder. However, diving in a bit deeper, Themify Builder does offer some cool features that I do really like.
The first thing I like are the background options. As with most builders, you can set a solid or gradient background color, a background image and – on rows and columns – I can also set a video background. But what I haven't seen before is the ability to insert a simple image slider as a background. You can also set a color overlay for a nice effect.
Talking about colors, the builders uses a color palette which you can easily adjust to fit your project colors. You can add or delete colors to that color palette right in the builder. There are also color filters, and you can set things like hue, saturation and sepia. 
You can also choose from a lot of animations, both entry animations and scroll animations. And you can set any element as sticky, which is a really cool feature too. 
For example, you can set your second row as sticky. When the user scrolls to the second row, it will stay at the top of the page. You can also set it to "unstick" later on,
so you can set that the second row will disappear from the top when the user hits the fourth row. 
For almost all styling options, you can also set different styling on hover. So you can set a different background image on hover, use a filter, change the typography etcetera.
That also goes for responsive styling; you can adjust a lot of elements separately for tablet (landscape and portrait) and mobile. One thing I really like is the ability to set the amount of columns you want for each row; most builders won't let you choose that. Of course, you can also choose to hide any element on any device.
Another thing most builders don't have yet is an advanced global styling system. You can save the styling of any row, column or module as a global style. For example, if you design a button with a purple background and white font color, you can save that as a global style called "purple button". Then, when you adjust the background of that button to blue, all buttons that use the "purple button" global style will now have a blue background. You can easily apply a global style to an existing element, and you can also copy/paste styling between elements.
Like most builders, Themify also offers a library where you can save a row or module so you can reuse it anywhere on the site. You can also save it as a layout element, which means you it becomes global. When you edit a layout element, the changes you make are automatically extended to everywhere on your site where you used that particular layout element.
Themify also offers a collection of pre-designed blocks and full page layouts. There are a few dozen pre-designed blocks, neatly divided in categories like headers, footers, contact, pricing, testimonials etcetera. You can also load a complete page layout, where you can choose from over 200 different nice looking layouts.
Everything I described above is in the free version of the builder. There's also a premium version, called Themify Builder Pro, which offers a bunch of extra features.
The most important one is the theme builder functionality. As with most free page builders, you can only edit the page or post content with them, but not the header, footer, blog archive, 404 page, woocommerce pages etcetera. With Themify Builder Pro, you can also adjust all those parts. An important part of any theme builder is dynamic content, that lets you automatically import content from the database.
With your Themify Builder Pro purchase, you also get over 25 builder addons. Every addon adds an extra module to your builder. The free version offers about 30 default modules,
but you need an addon for things like a before & after image, a countdown, a contact form, a time line, a pricing table, a woocommerce product list or slider, a typewriter effect etc.
The price for Themify Builder Pro is $ 69, which includes 1 year of support and updates. After 1 year, you'll have to purchase another licence if you want updates & support.
You can use Themify Builder Pro on an unlimited amount of websites with just 1 licence.
Themify Post Type Builder
The Page Builder is Themify's main plugin, but it's certainly not the only one. The
Themify Post Type Builder
is another really cool one!
WordPress comes with two post types: pages and posts. For each, you can set things like the title,
an excerpt and a featured image. Posts give you a few extra options; you can divide them in categories and automatically show them on your blog page.
But what if you need more? What if you want to build a home rental site? Then you need to set how many bathrooms it has, how many bedrooms, the price etcetera. Or what if you want a movies site? You want to show the actors, the director, the duration, the year it came out etcetera. For those kind of things, you need custom post types.
The Themify Post Type Builder let's you build those custom post types easily, and it has a lot of cool features too!
The first thing you do when adding a new post type is choosing the name (eg "Movies"). Next, you can set which of the default WordPress features you want to use with your new post type, like the title, content area, featured image, revisions etcetera. Then it's time to add the extra fields you need; in our movies example, that would be the actors, the director, the year it came out, reviews etc.
After you added all the fields you need, it's time to build your templates. You can build an archive template and a single post template with a simple drag & drop editor.
You can use multiple rows and columns, set an icon and a text that shows before or after the field (eg you can set an icon of a person and the text "actors:" for the actors field).
However, there aren't any styling options so you can't set the font, color, padding etcetera.
The Themify Post Type Builder comes with 5 extra addons:
Map View: Lets you show your listings on a Google map, with a tooltip
Search: Lets you set up custom search for each field
Relation: Lets you set relations between 2 post types. Eg, actors, directors and movies can all be different post types. In the template for actors, you can list the movies they played in.
Extra fields: Gives you a bunch of extra field types, like rating, sliders, gallery etc.
Submissions: Lets you create front-end forms so users can add or edit your custom field types. 
The price for Themify Post Type Builder is $ 49, including all extra addons. As with the builder pro plugin, that includes 1 year of updates & support and you can use it on an unlimited number of sites.
Next to the Page Builder and the Post Types Builder, Themify also offers a bunch of other plugins including:
Themify Ultra and other themes
Next to their plugins, Themify also offers a collection of over 40 premium WordPress themes, of which Themify Ultra is the most well known. All themes are based on the same framework and give you a lot of settings to adjust everything to your wishes.
You can set the default typography for just about every element, the default page, post and blog layout, a custom 404 page, set links to your social media profiles (and the icons and colors for that), inject code in the header or footer etcetera. 
Most of the options are the same for all themes (I've tested 4), but some have more options than others.
The Ultra theme seems to be the most versatile of them all; it gives you the choice between 8 different blog layouts (under which a masonry layout), no less than 19 header layouts, a mega menu and much more. The animated background colors deserve a honorable mention, those are really cool and unique.
Also, every theme gives you the option to import a demo website, so your website looks exactly like the live demo in a click. Most of the themes let you choose between a few different skins, which mostly means only the accent color changes. Themify Ultra is a different story and lets you choose from 30 versatile designs, which are catered to a certain niche (construction, restaurant, education, fitness, spa etcetera).
Of course, all themes are optimized for the Themify Builder. The price for one theme is $ 59 including one year of updates and support.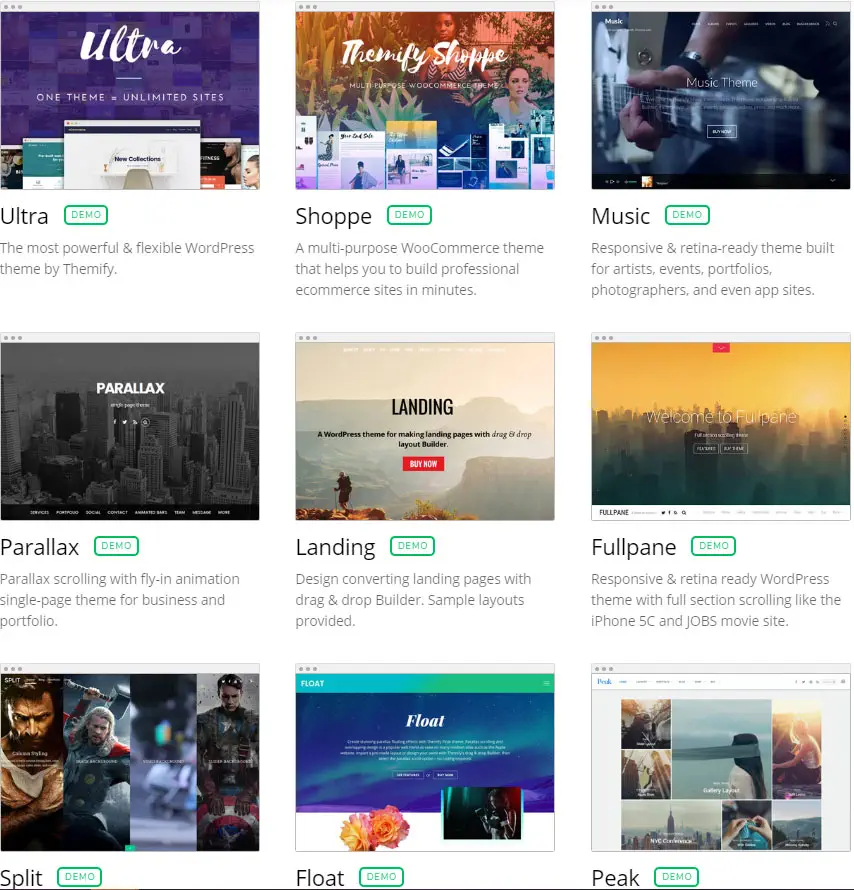 To be honest, I don't find the prices for individual plugins and themes that interesting. $ 59 for one theme is an okay price, but that only gives you one year of updates and support.
After the first year, you'll have to buy a new licence to get updates. For the same amount, you can also buy a theme like Avada which offers at least the same value as Themify Ultra,
but with lifetime updates (but officially only 6 months of support).
However, Themify also offers a membership called the Master Club, which costs $ 89 per year. That's just $ 30 more than the price for a single theme, and gives you access to
all themes and plugins. That's great value! Moreover, they also offer a lifetime membership for $ 249.
So the Themify Builder feels a bit less intuitive to me than some other builders, but it does offer a lot of features – some of which I haven't seen before on the other builders I tried.
Like any builder, it takes a little getting used to, and after playing with it for a few hours, I like it a lot more than when I first opened it. Themify memberships also include a bunch of other plugins and over 40 premium WordPress themes, giving you a lot of value for your money.
Is it going to be my favorite builder? Nope, for me personally that's still Divi (which costs exactly the same by the way). But would I take on a client that wants to work with Themify?  Absolutely! Are you unsure whether Themify Builder is the right choice for you? Then just play around with the free version first, and if you like it, get a (lifetime) membership!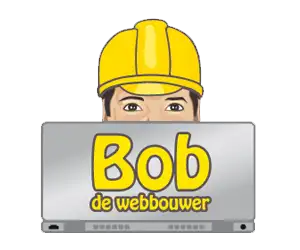 Need help with your website?
This article is written by Bob the web builder, an allround website expert who blogs regularly about all kinds of subjects to help you build your website. Do you need help with Themify or another builder?
Hire Bob to build your website or improve your existing website. 
This article contains affiliate links. That means I get a compensation when you buy one of the things mentioned in this article. The price you pay is still the same so it won't cost you anything, but it will help me to help you with these kind of free articles.
So if you're going to buy a Themify product, I would really appreciate it if you use
this link 🙂 
Are you not going to buy a Themify product, but still want to help me out? Then I would really appreciate it if you would make a small, one time donation via the button on the right 🙂
Related Posts